We Are A Team of Solutions-Driven Professionals and Craftsmen Serving the Printing Industry.
We Stand Ready to Help You Produce Your Next Award-Winning Project.
AWARDS
Superior Graphic Finishing has won over four hundred awards over the last 45 years from Printing Industry Association of Georgia, Printing Industries of America and Foil & Specialty Effects Association.



EXPERTISE/EXPERIENCE
Superior Graphic Finishing is fortunate to have a staff with such a vast amount of expertise in all aspects of the finishing and printing industries.
We use this experience to help our customers find the best way to produce their projects and to make suggestions and make them aware of potential issues that could be a problem.
We have headed off many different types of potential problems for our customers that could have resulted in extra costs and delays.
PROBLEM SOLVERS
At Superior Graphic Finishing our goal is to be problem solvers.
Years of expertise and a sincere desire to help our customers in every way possible are key when challenging projects arise.
We approach challenging projects with the attitude that we will find a solution for them.  Our staff members routinely have meetings to address special projects to make sure that all aspects of that job are taken into consideration.
CUSTOMER SUPPORT
Some of the services to provide the best support for our customers are:
Pickup and delivery service available
Timely calls when jobs are ready
We retain all dies for three years from the date of last run
Cad samples for approval when needed
We furnish a spot sheet and die line at no additional cost with all steel rule die orders
Same day estimates whenever possible
Next day production on most dies
Representatives to meet at your facility to discuss special projects
QUALITY CONTROL CERTIFICATE
We feel that it's important to provide a Quality Control Certificate with every job that we produce.
It is our desire to make sure that we have done everything possible to quality control their job from start to finish. It also gives us a record of everyone that helped produce the job.
This certificate is generated when the job is written up and follows the project through all processes.  At each stage and throughout the run it is signed by all operators and managers for quality and correctness.  It is then shipped to the customer with the job.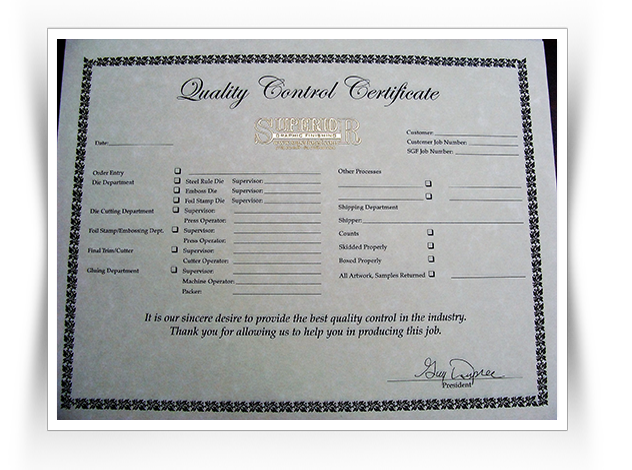 OUR STORY
Superior Graphic Finishing was established in 1972 as a steel rule die company, "Superior Die Company" by Dan Phillips and Guy Dupree. In the early eighties, die cutting, foil and embossing, fold and gluing and other specialty bindery services were added and the company became Superior Graphic Finishing.
After 29 years of a partnership and the passing of partner Dan Phillips, Guy Dupree became the sole owner of Superior Graphic Finishing.  The principles now are Guy Dupree, Tammy Dupree, Tina Abercrombie,  Ian Abercrombie, and Howard Mowery.
Today Superior Graphic Finishing is regarded by many as the premier graphic finisher in Georgia.
Why use a finisher?
At Superior Graphic Finishing our focus is to be as knowledgeable and skillful about all aspects of the graphic finishing trade.
Today more than ever, customers demand the highest level of perfection. Even the smallest detail in a piece that is not up to par can ruin an otherwise great job.
For example:
Register must be exact
Die cutting must be clean and nick free
Scores must be tight with no cracking
Foil stamping must cover well with little or no impression on the back
Embossing must be crisp and defined
We are a highly specialized company in our industry with great customer service, state of the art equipment and skilled craftsmen.