Providing Finishing Services for the Commercial
Printing Industry Since 1972
A Family Business with Professional Values
DIES
Superior Graphic Finishing started in business as solely a steel rule die company.  Therefore, making our dies in house has been an integral part of our operation as we added other services.
We do not have to have our dies made by another company or send them out for repairs and alterations. Die adjustments can usually be made while the die is still on press or in our die shop without causing delays in valuable deadlines.  We also make steel rule dies and stripping units for commercial printers who do some of their work in house.
We have many standard house dies that we can provide to save die cost if the artwork is set up to our furnished layout.
DIE CUTTING
Superior Graphic Finishing uses only the highest quality die cutting machinery to insure precision in every aspect of die cutting production.  We can remove interior scrap from the sheet inline and final trim and stacking with automated programmable paper cutting machinery.  We have many different styles of die cutting presses and can accommodate many different sheet sizes and stock thicknesses.
FOIL STAMPING AND EMBOSSING
State of the art foil and embossing machinery and years of expertise allow us to produce beautiful covers, brochures and many other types of foil stamped and embossed pieces. We have many press sizes to accommodate sheet sizes up to 28x40. We stock many different colors and types of foil and can do single level, multi-level, and sculptured embossing.
FOLD, GLUING AND SPECIALTY SERVICES
Whether it is a high speed automated fold and glue project or a unique design that requires hand work, we can adapt our production to fit the job. Some of our other specialty services are:
Two-sided tape application
Shrink wrapping
Quantity tabbing
Eyelets and grommets
Button and string fasteners
Chicago screws binding
New Services
Automatic Tip On Cards and Product Information Inserting
Automatic Wafer Sealing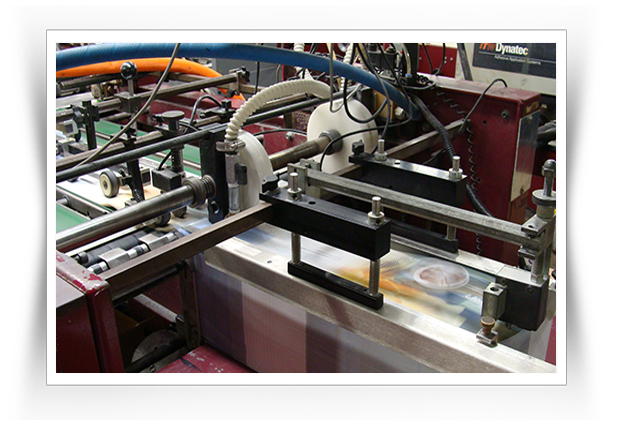 We Offer Pickup and Delivery